Year-on-year increase in M&A activity at start of 2022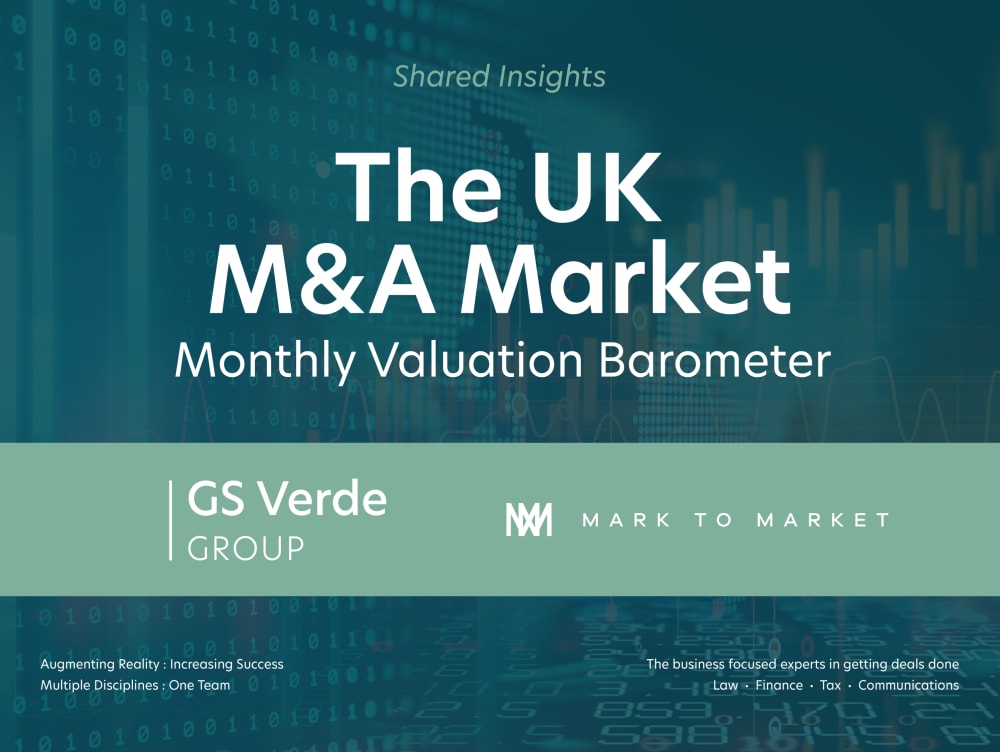 posted
15th
March
2022
Posted

2 years ago
By

GS Verde Group
M&A deal volume and value in January 2022 was higher than the same time last year, MarktoMarket's February Valuation Barometer indicates. In this article, dealmaking experts, the GS Verde Group review the deal highlights and valuation multiples in UK M&A in January 2022.

January 2022 denotes a good level of deal activity relative to pre-pandemic volumes. Deal volumes are usually depressed in January following a busy year end as deals are rushed through by 31 December. January 2022 was no exception with 410 transactions recorded compared to 567 in December 2021, but the month was still an improvement on its 2021 counterpart, during which 333 deals were recorded.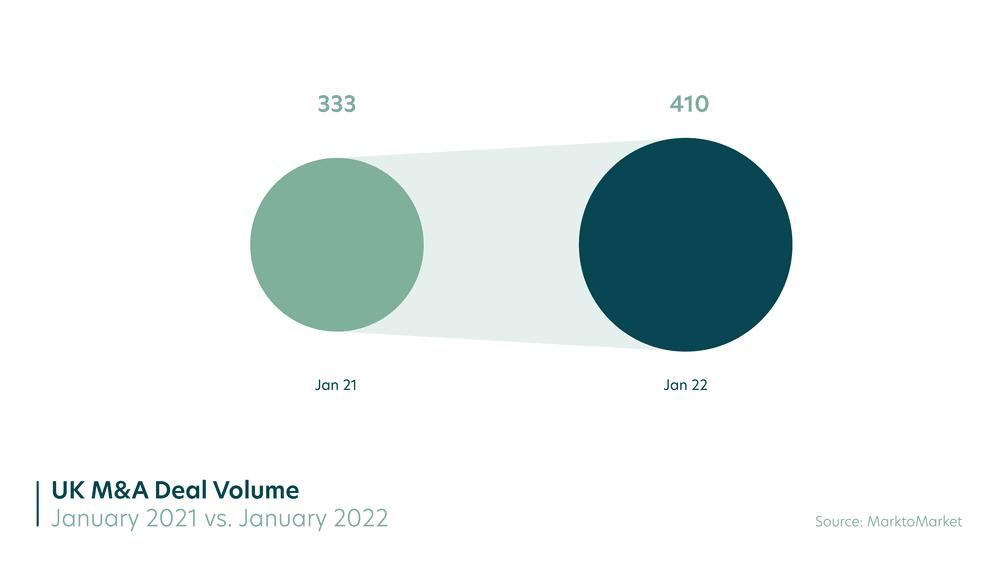 The data platform calculated that M&A deals valued at a total £13.6b were executed or announced during the month of January. This compares to a prior month total of £25.7b.

Last year, deal value between January and February increased by 45% and as such we would expect next month is expected to show an increase once again, in line with annual trends.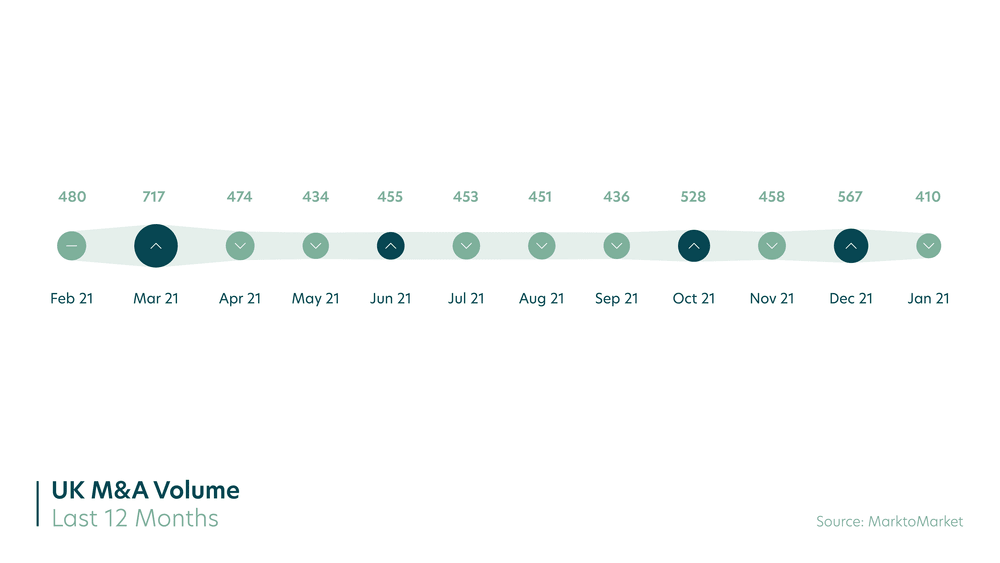 Deal multiples in January are as follows, with December's values bracketed for comparison.

Valuations are split into two deal categories: Completed and Announced M&A - transactions that were announced and completed during January 2022 and Minority Deals - acquisitions of minority stakes in private companies announced during January 2022 (secondary shares only).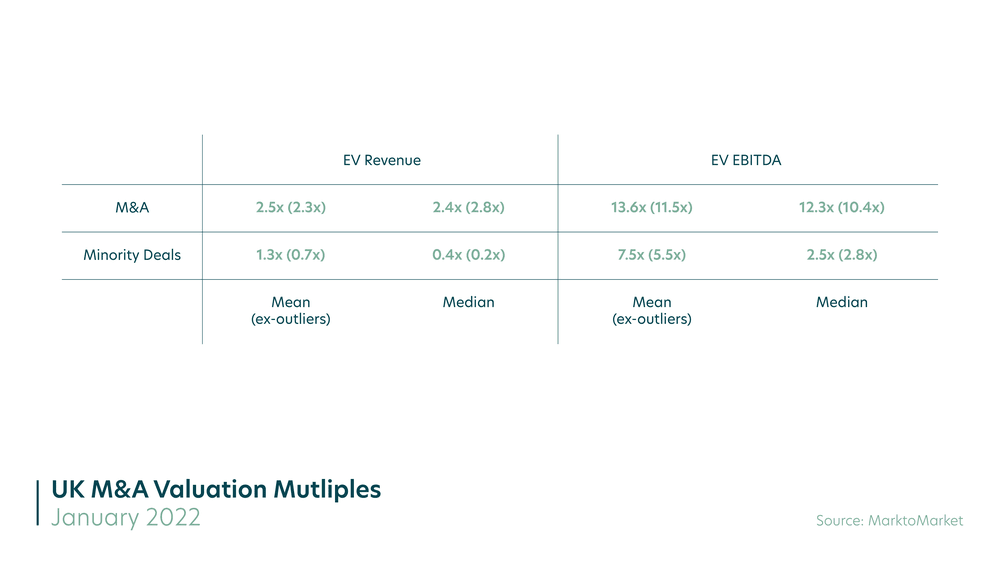 January 2022 witnessed the Singapore state owned investor, Temasek International Holdings, broker its largest deal in Europe to date with the acquisition of Element Materials Technology Group Ltd.

Other significant transactions included independent games developer Team 17 Plc's three acquisitions this month, plus the sale of vehicle leasing business LeasePlan to ALD, a subsidiary of French bank Societe Generale for €4.9b.

As dealmaking specialists, the GS Verde Group has advised on several deals during this period, including the acquisition of on-demand delivery service Pinga by fast-growth personal shopper app Beelivery.

While UK deal volumes have expectedly dipped at the start of the year, the month would have been considered exceptionally strong prior to the buoyant UK deal market of 2021, indicating firms continue pursue growth by accelerating their plans for investment, mergers and acquisitions.

The GS Verde Group are business focused experts in getting deals done, combining multiple disciplines to provide end-to-end support as a complete advisory team.

With thanks to MarktoMarket for providing data and analysis.

Whether you are buying a business, selling a business, or raising funding, the need for expert advice is essential. Contact the GS Verde Group for more information.