The UK M&A Market - January 2022 Valuation Barometer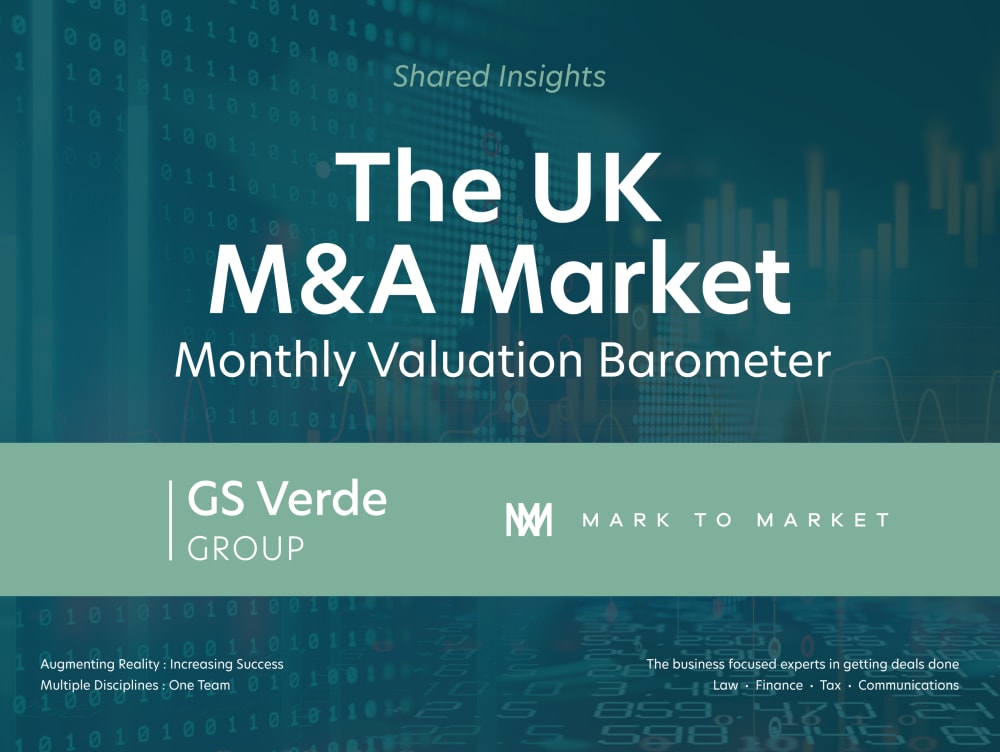 posted
4th
February
2022
Posted

2 years ago
By

GS Verde Group
M&A deal volume and value increased from November to December, MarktoMarket's January Valuation Barometer indicates. In this article, dealmaking experts, the GS Verde Group review the deals highlights and valuation multiples in UK M&A in December 2021.

Historically, December has been a strong month for deal volumes, and December 2021 was no exception. Deal volumes increased in the last month of 2021, with 525 deals recorded representing the second highest month of deal activity in the year. This volume is a marginal increase on its prior year comparison by 2.7%.

The data platform calculated that M&A deals valued at a total of £25.7 billion were executed or announced during the month of December. This compares to a prior month's total of £17.1 billion.

Deals multiples for December 2021 have been split into two categories: Completed and Announced M&A Transactions, and Minority Deals - acquisitions of minority stakes in private companies announced (secondary shares only).

To put changes in valuations into some context, compare the mean and median deal sizes in December 2021 against November 2021 (November deal sizes are bracketed):

Mean M&A: £372.5m (£237.2m)
Median M&A: £38.8m (£11.5m)

Mean Minority Deals: £0.6m (£0.5m)
Median Minority Deals: £0.2m (£0.2m)

The largest transaction recorded in December 2021 was the disposal of a prolific PE firm's 40% stake in a global vehicle glass repair and replacement business for €8.4 billion.

Other significant transactions included the $6.7 billion acquisition of a pest control group by a competitor, and the acquisition of a renowned British department store chain for £4 billion.

As dealmaking specialists, the GS Verde Group has advised on several deals during this period, including the management buy-out of Bridgend-based A&R Services, and leading training provider Educ8 Training's acquisition of Haddon Training that marks the group's expansion into England.

Even though M&A activity in 2021 reached new heights, 2022 is set to be just as or if not more energetic. There is significant demand for businesses that have shown adaptability and resilience in the face of the pandemic. The GS Verde Group is primed to meet this new pace, with established efficiency and quality through the dealmaking process.

The GS Verde Group are business focused experts in getting deals done, combining multiple disciplines to provide end-to-end support as a complete advisory team.

With thanks to MarktoMarket for providing data and analysis.

Whether you are buying a business, selling a business, or raising funding, the need for expert advice is essential. Contact the GS Verde Group for more information.