Q&A: How employee ownership provides a win-win route for succession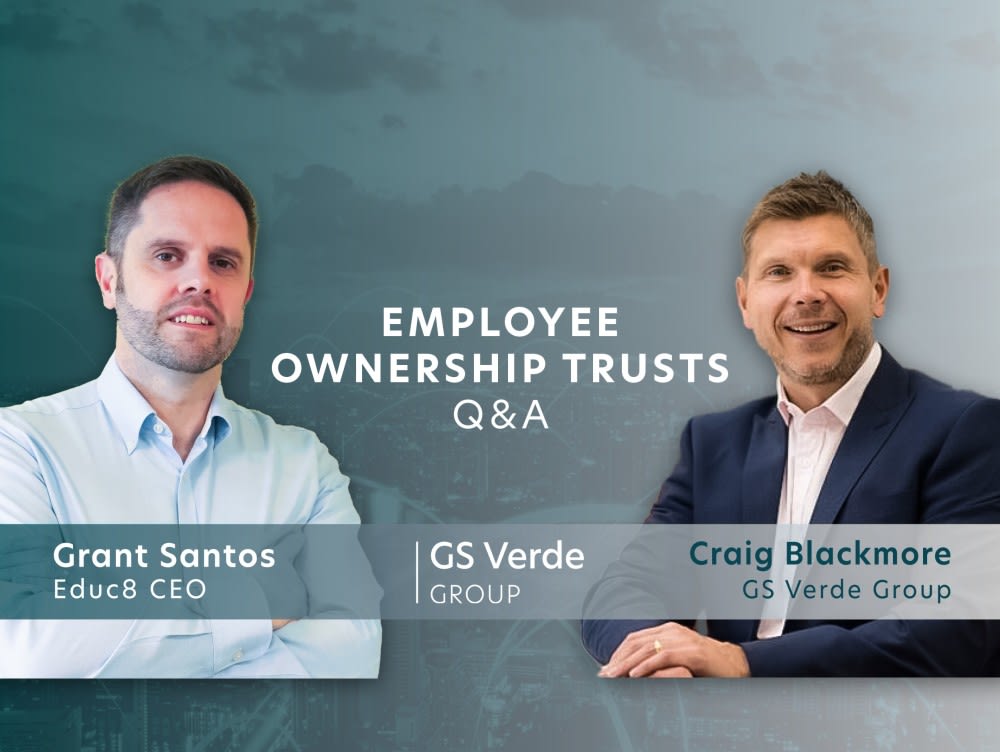 posted
28th
June
2022
Posted

1 year ago
By

GS Verde Group
At a recent webinar (which you can request to watch here), dealmaking experts from the GS Verde Group spoke with Grant Santos, CEO of award-winning Educ8 Training about the business' recent transition to an Employee Ownership structure and why it is fast becoming one of the most popular forms of business sale.*

The panel also discussed the commercial finance considerations of employee ownership with Craig Blackmore, Managing Director of GS Verde Corporate Finance, examining how employees, business owners and the business itself benefits from such a structure.

For Educ8, transitioning to being employee-owned felt like a natural evolution due to the strength of employee engagement over the last 15 years, while the Trust structure offered the senior management team peace of mind about the future of the business.

Grant said: "Values, ethos and culture are what we see as our unique selling points. It was a natural transition for the structure, and clearly a way for employees to benefit in the business.

"It's been really positive, because we've sold a majority share to the employees but Colin Tucker, Group Chairman, and myself still own a significant part of the business. We see that the business has got huge opportunities over the next few years.

"The feedback from our team is that this has strengthened their existing buy-in to the business because they can see the longer-term positive impact on them."

What types of businesses suit Employee Ownership?

Over 200 staff members at Educ8 now collectively own 51% of the business via an Employee Ownership Trust, as the business goes from strength to strength.

Craig said: "I think maybe there's a misconception that Employee Ownership Trusts were the remit or reserve social enterprises, maybe not commercial profit-making ambitious businesses, but that isn't the case.

"An EOT structure could suit any SME business, but you're essentially looking at business with a workforce of 10 employees or more. It's open to all employees (other than those already holding 5% or more of the equity) and it is HMRC-approved government legislation, not some kind of loophole."

There are tangible financial benefits of choosing Employee Ownership as a route for succession, including 0% capital gains tax for the seller, and staff able to receive an income tax-free bonus of up to £3,600 (per employee).

Moreover, with no commitment or cost from an employee's perspective but a future shareholding, the entire team embraces the collective aim to better the business and drive it to hit ambitions and targets.

Grant said: "There are definitely benefits in terms of staff retention, and we're in an economy and market conditions where that's a big challenge. Employees are absolutely the key to our businesses, so with the EOT, they're benefitting from the long-term success.

"They feel more secure, understanding what direction the business is travelling in and what their role is in that strategy."

Grant also shared how the lack of an external third party and the employees' existing knowledge of the business, made the transaction much 'friendlier' and helped to de-risk the deal overall. Now, Educ8's employee ownership trust is in action and the business has been all the better for it.

Grant said: "We're starting now to get people more engaged in what it's about, what the benefits are, and really challenging us as a board of directors as well, which I think is important. It's been a really positive impact to have ideas and questions about how the business is operating.

"We're also expecting to see positive effects from the EOT with our customers, who share our values as a service provider. Now, by having the staff engaged and motivated even further, that enthusiasm is going to come through in our conversations with customers every day."

Where does the employee ownership transaction begin?

Though the Educ8 team is now well into its employee ownership journey, it was important to fully understand the transaction and whether it was the right next step for the business before going ahead.

Craig said: "You need to assess the business to make sure that you're going to be comfortable with the structure and whether it is the right fit on both the financial and non-financial side of things.

"At an early stage, speak to advisors. Engage somebody who's had experience of dealing with this and knows the challenges."

Want to learn more about Employee Ownership Trusts? Request the full webinar now.