De-risking the deal: How to ensure your business is sale-ready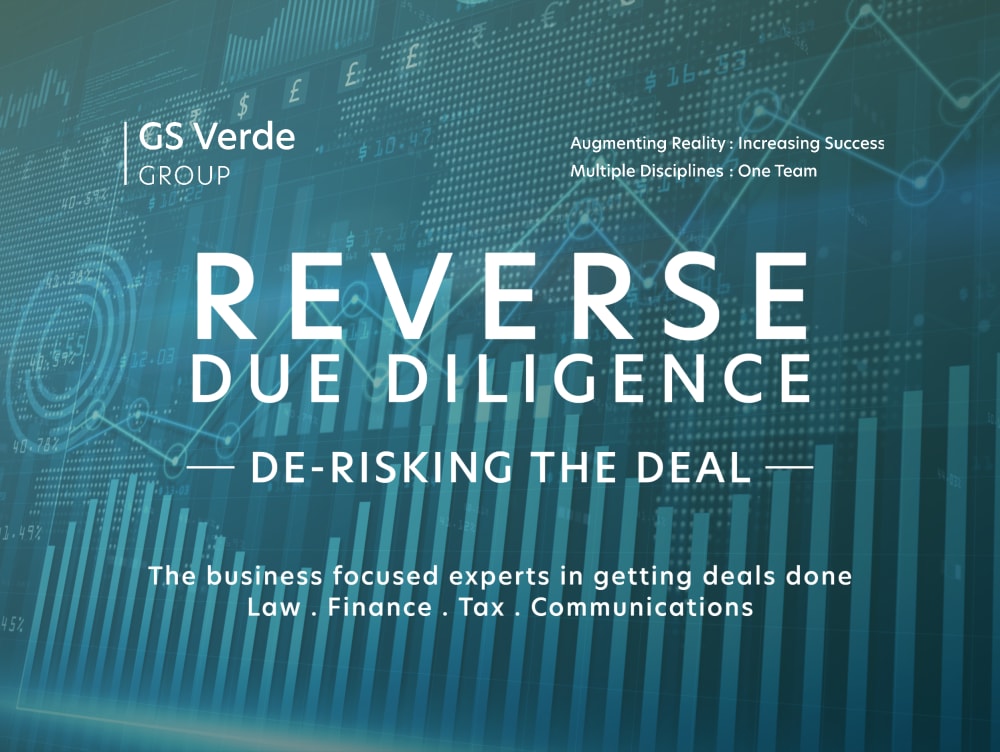 posted
1st
March
2023
Posted

7 months ago
By

Lorna Bolton | GS Verde Law
Just as securing an accurate valuation is an important first step towards selling a business, it is also essential to identify areas of improvement early in the process. It is never too soon to plan for succession; taking the time to understand what needs to be put in place in advance will often lead to the greatest chance of success.

Working with experts such as the GS Verde Group to guarantee a business is 'sale-ready' helps to rectify any issues that could hinder progress further along in a transaction and raise the value to achieve the best possible sale outcome.

What is 'reverse due diligence'?

Before any business is ready to sell, GS Verde strongly recommends conducting a full reverse due diligence exercise. This is a crucial process whereby GS Verde Group acts as a third party, objectively reviewing and assessing the business to determine its current condition, identify and plug any exposed areas of risk, and update or implement new contracts, terms and policies.

This strengthens the business ahead of the 'real' due diligence process, with the necessary paperwork carried out comprehensively, de-risking the ability of any potential buyer using this as a tool to negotiate on the commercial terms of the deal.

Key areas to examine include client and supplier relationships, ensuring protective and long-term contracts are in place to demonstrate future revenue, making sure employment contracts are accurate and compliant with up-to-date legislative requirements, and confirming that data is collected and stored appropriately and in line with data protection regulations.

Other aspects, such as assessing any ongoing or previous litigations to assess their impact on the business and its value from a buyer's perspective, reviewing the business' property and assets and their contractual obligations, and the nature of the shareholder agreements are all a crucial part of the business' value and its future.

Planning ahead for future success

With so many facets of the business to consider, conducting a careful, comprehensive assessment of each part of the business takes time and the process cannot be rushed.

Resolving certain issues, such as updating employee contracts or data stored by a business, can be time-consuming and must be done before any deal discussions can occur.

Therefore, completing a reverse due diligence exercise before the business is marketed for sale both ensures that any upfront issues can be flagged early and allows enough time to resolve them.

Undertaking the process with expert advisors, such as GS Verde, is a beneficial exercise to ensure preparedness and efficiency - even if plans to sell the business seem years away.

Why conduct reverse due diligence?

The benefits of getting an outside perspective from specialists in a formal, organised manner cannot be overstated.

Reverse due diligence provides an opportunity to strengthen the value of the business, highlighting opportunities to improve efficiency ahead of any transaction.

The process also identifies areas for improvement to pre-empt any issues that could occur during the transaction. By preparing the business through reverse due diligence, a seller is equipped to answer any questions a potential buyer may have during the deal, enabling a smoother transaction and minimising the surprises from the potential buyer's due diligence process.

As a result, reverse due diligence reduces the risk of delays and deals collapsing. Eliminating any issues that may pose a risk from a buyer's perspective subsequently increases the business' value and helps obtain the highest sale price.

Do you have a plan for succession? There are various options for selling a business, each with advantages for consideration. Learn more about which route best suits you.