High-growth hubs: The leading UK cities for start-ups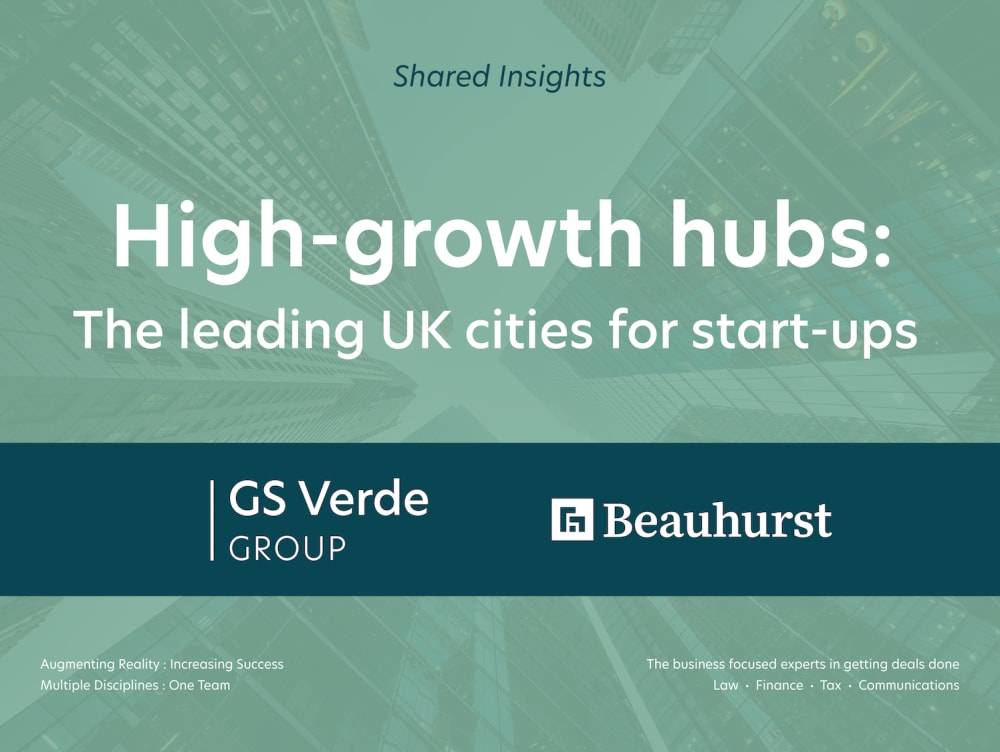 posted
28th
March
2022
Posted

1 year ago
By

GS Verde Group
A list complied by data platform Beauhurst of the top start-up cities in the UK, outside of London, demonstrates a booming network of high-growth companies across the country. As business focused experts in getting deals done, GS Verde Group are pleased to see these thriving business ecosystem locations in the UK.

London is undoubtedly the centre of the UK's high-growth economy. The City of London 1,885 companies, 72% of which are categorised as high growth and attracting £3.73b of investment in 2021 alone.

But outside the UK capital, there are plenty of smaller cities building their own leading tech hubs, supported by local enterprise partnerships and growth hubs, business incubators and accelerators, venture capitalist and private equity funds, and a growing number of angel networks.

Edinburgh, Manchester and Leeds complete the top three start-up hubs in the UK, ranked by the number of active high-growth companies.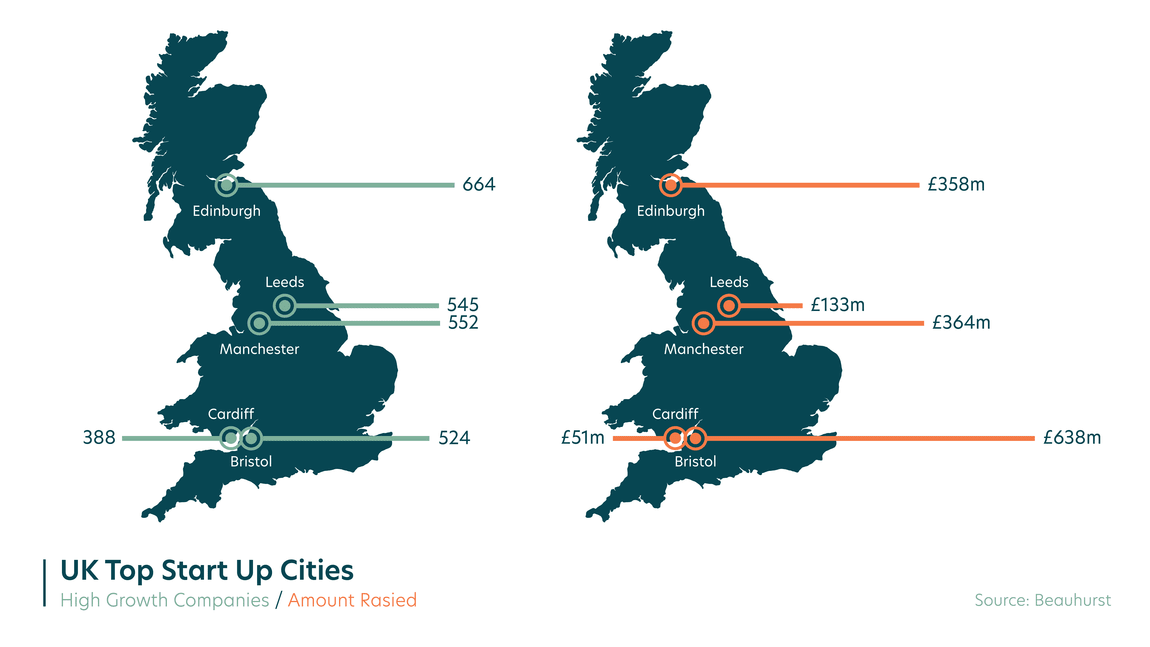 Bristol

Following closely behind Leeds, with 524 active high-growth companies, is Bristol. Of that total, 275 are technology companies. The city is a centre for several technology sectors, including cleantech and semiconductors, making Bristol an incredibly attractive place for investors from far and wide.

Between January 2011 and October 2021, Bristol-based companies have secured £1.99b worth of equity funding, across 621 rounds. Last year raised saw £638m raised across the city, the highest total yet.

GS Verde has first-hand experience with the fast growth seen at this location, with our Bristol offices expanding to develop our presence in the city.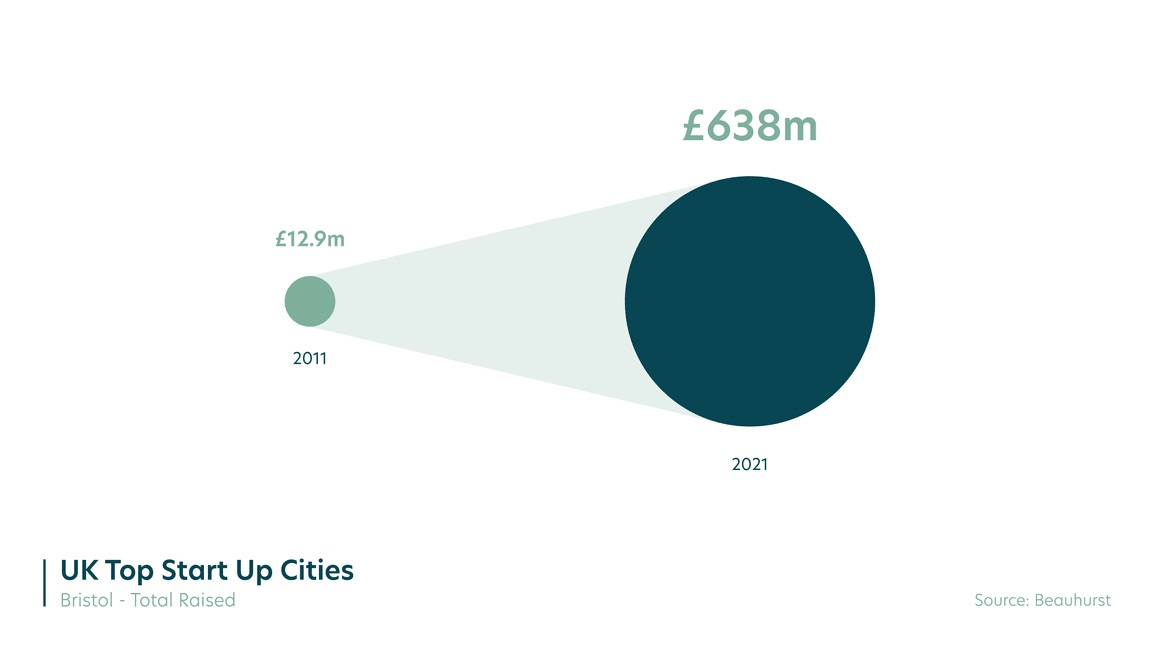 Cardiff

The Welsh capital is home to 388 high-growth companies. Between January 2011 and October 2021, businesses in Cardiff have secured 226 fundraisings worth £224m, with peaks between 2017-19 around £30m annually and 2021 meeting these highs.

While Wales is still to create its first unicorn, there are plenty of venture-backed companies that have potential. Cardiff and Swansea have firmly established themselves as two of the most exciting and dynamic tech clusters in the UK.

With our headquarters located in the centre of the Welsh start-up scene, the GS Verde Group has advised on several deals for Cardiff-based businesses across a wide range of sectors, from interior design to aerospace technology.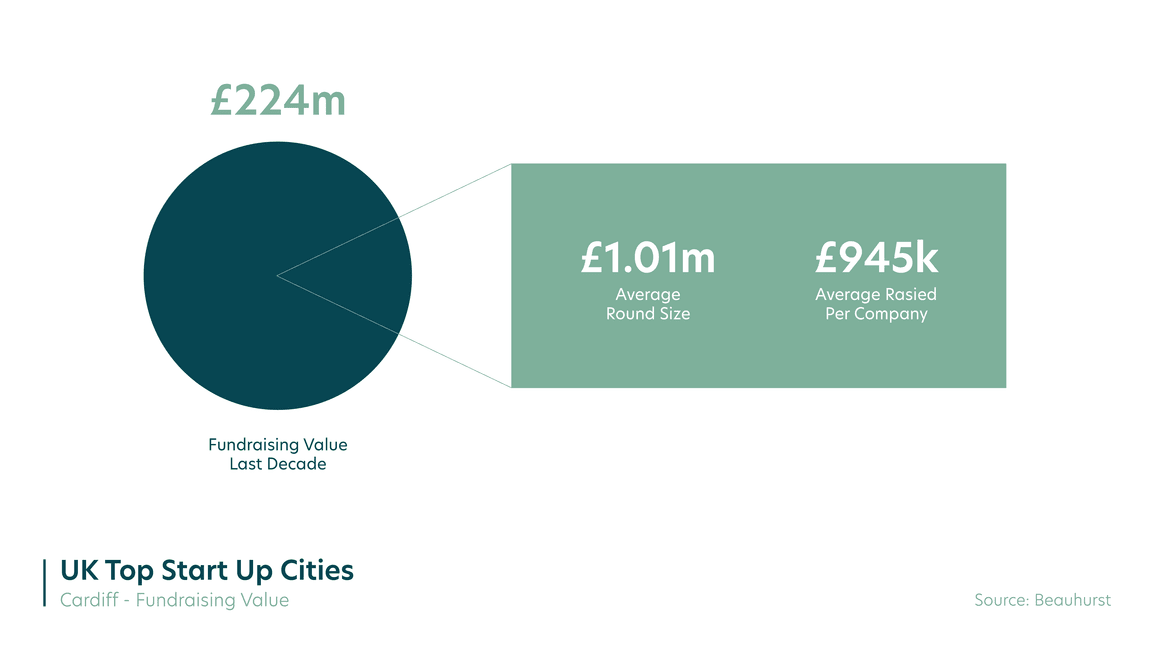 Dublin

Though the Irish capital was not included on Beauhurst's UK-focused list, it is worth lauding the city's growth. Several tech giants such as Google, Facebook, LinkedIn, Twitter and Amazon have set up EMEA headquarters at the Silicon Docks, with Dublin recently ranked as the third 'Tech City of the Future', behind London and Paris.

In data compiled by the Financial Times' FDI Intelligence, Dublin was described as a "thriving hotpot in the start-up space" thanks in part to Enterprise Ireland's funding of early-stage entrepreneurs. The State agency, which is one of the biggest investors in starts-ups globally, doubled the funding provided to companies in 2020, investing $56.6 million in 125 new firms.

Covid-19 has not halted progress in the local scene: despite the pandemic, Irish tech funding hit a record €1.3b in 2021, with a record 279 companies raising investment. Over 60% of that went into Dublin-based businesses, as the city continues to support a thriving start-up ecosystem.

The GS Verde Group launched in Dublin last year, with our first EU office as we continue to grow our own disruptive, fast-growth business.
UK cities have grown enviable start-up ecosystems, attracting talented entrepreneurs from across Europe and beyond, and building world-class businesses. With such promising signs already in these cities, the future certainly looks bright.

With thanks to Beauhurst for providing data and analysis.

Whether you are buying a business, selling a business, or raising funding, the need for expert advice is essential. Contact the GS Verde Group for more information.