GS Verde named Best Multidisciplinary M&A Advisory Group in UK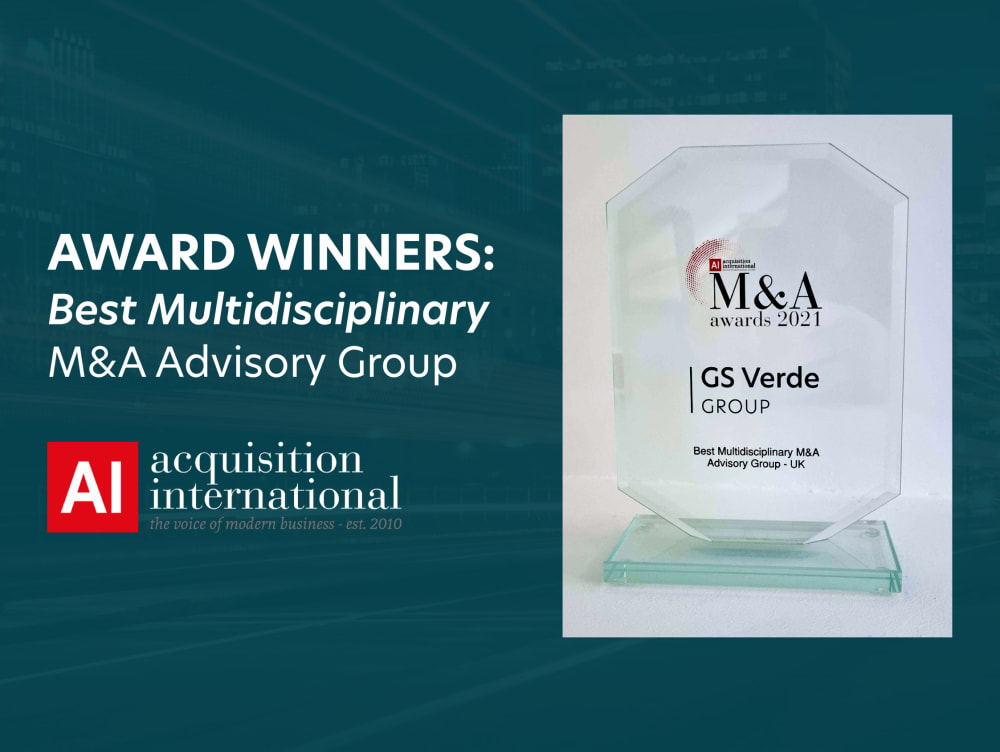 posted
20th
January
2022
Posted

2 years ago
By

GS Verde Group
The GS Verde Group is delighted to have been named the Best Multidisciplinary M&A Advisory Group in the UK by Acquisition International.

A leading voice in modern business, the Acquisition International M&A awards commend those working tirelessly throughout every stage of the merger process to navigate and guarantee the successful completion of transactions through which benefits can be reaped, and the course of a business can be changed indefinitely.

In the past year, GS Verde has seen many key moments and significant growth, which have consolidated the Group's end-to-end approach amongst an ever-developing market.

What Acquisition International said about us:

"Whether you're buying a business, selling a business or raising funding, the transactions required can often be complex. Expert advice is essential - but where do you start?

"There are legal and financial considerations as well as the inevitable tax implications. Of course, there's the matter of keeping everyone informed too.

"The GS Verde Group provides legal, finance, tax and communications advice, all under one roof. With an end-to-end support model, the Group works as one team across multiple disciplines, coming together for the benefit of clients and augmenting reality from the traditional disparate way these services are provided by competitors.

"The process of mergers and acquisitions, business sales and raising funding is often complicated. The GS Verde Group works hand-in-hand with clients' management teams, adding value and saving time having to manage several advisors, reducing the risk of delays and deals collapsing.

"M&A deals can also prove time-consuming, with both parties working towards their own desired outcomes. The GS Verde Group's team of expert advisors provide guidance on the financial and strategic elements as well as the legal advice and support businesses require throughout the process.

"Whether working with prolific corporate acquirers or those starting a buy and build strategy, GS Verde specialise in identifying the right targets, completing comprehensive due diligence and negotiating the best deal structure for clients, before finalising the legal transfer and developing an effective communications strategy both internally and externally.
"The GS Verde Group has adapted to the new fast pace of the M&A market, fulfilling the demand for quick results and evolved deal strategies."
"With multiple disciplines, the GS Verde Group's reach is vast, utilising the broadest suite of technology, marketplaces and data insights to help identify businesses actively looking to sell while also identifying targets not currently on the market. Similarly, GS Verde's state-of-the-art fintech platform is optimised to connect investors with those seeking investment, with an experienced team of experts in all types of funding options.

"Throughout 2021 the M&A market has continued to grow, showing no sign of stopping. The GS Verde Group has adapted to this pace, fulfilling the demand for quick results and evolved deal strategies. With the market thriving generally, GS Verde have embraced the shift towards digitisation in order to expand its reach.

"Recent transactions include the successful completion of an Employee Ownership Trust scheme for Paramount Interiors. After an exceptional growth period, staff at the commercial interiors specialist became majority shareholders, collectively owning 51% of the business. The realisation of the deal, structured and advised on by the GS Verde Group, created a more employee-centric business structure to empower staff and in turn benefit the business as a whole.

"GS Verde also recently advised on a seven-figure acquisition of garden machinery e-commerce business Mowers-Online.co.uk.

"In addition to M&A deals the GS Verde Group also advise on investment raises, most recently for innovative aerospace business SmallSpark Space Systems. With their new generation of safer engines and propulsion systems, SmallSpark are redefining the UK space sector by making cost-effective and environmentally friendly access to space more readily available and lowering the barriers to space entry for UK groups seeking space access.

"2021 saw the GS Verde Group make many key developments, from expanding its team, making its own acquisitions and opening its first office outside the UK. Looking to the future, GS Verde is primed to build upon their growth so far. The dynamic GS Verde Group team will continue to use its ambitious and pioneering approach to get deals done. If you're looking to complete a corporate transaction or secure funding, reach out to the team."


We are thrilled to have earned this prestigious award and be honoured for our work supporting clients across a wide range sectors through their corporate transactions. As a Group, we thank the judges at Acquisition International for recognising the success of our end-to-end approach.