Fintech continues to lead equity market funding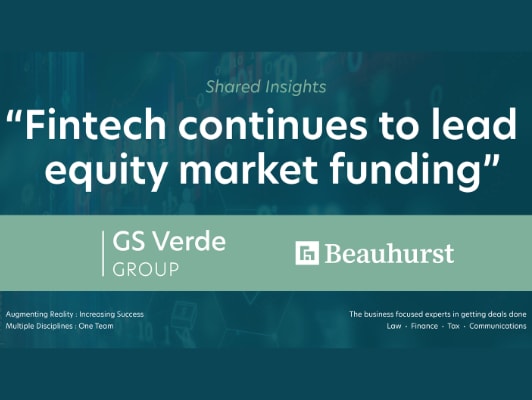 posted
8th
December
2021
Posted

2 years ago
By

GS Verde Group
Fintech continues to lead equity market funding, data from Beauhurst indicates. The GS Verde Group are business focused experts in getting deals done, combining multiple disciplines to provide end-to-end support as a complete advisory team. Exploring the latest investment trends, the fintech sector looks set to continue earning high levels of investment.

Short for financial technology, fintech refers to new technology that seeks to improve and automate the delivery and use of financial services. The goal is to help both consumers and businesses manage their financial systems and processes more efficiently, through specialised technologies, software, and algorithms.

The UK's fintech ecosystem is a field defined by a growing number of new players, alongside household names, and covers a wide array of sub-sectors such as banking, cryptocurrency, blockchain, investment, InsurTech, payments, lending, machine learning and trading, and cybersecurity.

The GS Verde Group has advised on a number of fintech deals: from the acquisition of an IT service provider specialising in cybersecurity to the acquisition of a transformative consumer lending platform to the leading provider of compliant software solutions in Credit and Debt Recovery.

With the aim of providing an innovative alternative to traditional industries in mind, the number of fintech companies operating in the UK (and globally) has boomed, as has the number of people incorporating financial technology into their daily lives. It comes as no surprise then, that fintech sees more investment than any other high-growth industry in the UK. The pandemic has only accelerated this growth, with a huge increase in demand for cashless payments and digital banking.

According to data platform Beauhurst's Equity Investment Market Update for Q3 2021, a number of the UK's major tech sectors saw an increase in deal numbers between Q2 and Q3, but none quite met the record figures seen in Q1 2021. Fintechs secured 77 deals in Q3, worth a combined £2b. This marks 80% of the total raised throughout 2020. The UK's second-hottest start-up sector, artificial intelligence, saw 57 deals completed during Q3, amounting to £703m.

In fact, £5.05b has been invested into fintech companies so far this year—more than double the £2.51b reached in 2020. As it stands, £17.1b has been invested across all sectors between Q1 and Q3, with Fintech accounting for 30% of that total. Investments announced during Q3 2021 were worth a combined £6.32b—the highest amount of equity deployed in any single quarter.

So, what does the future look like for Fintech?

Beauhurst research indicates that 31p in every £1 invested during H1 2021 went to fintech companies, and this upward trajectory is expected to continue.

In line with the 'tech for good' movement, an increasing number of fintech companies are focused on minimising their environmental impact and providing green alternatives to traditional financial services. Going forward, it looks likely that sustainability will be at the forefront of future fintech innovations in the UK.

With thanks to Beauhurst for providing data and analysis.

Whether you are buying a business, selling a business, or raising funding, the need for expert advice is essential. Contact the GS Verde Group for more information.