Exits in the UK: Reflecting on a milestone decade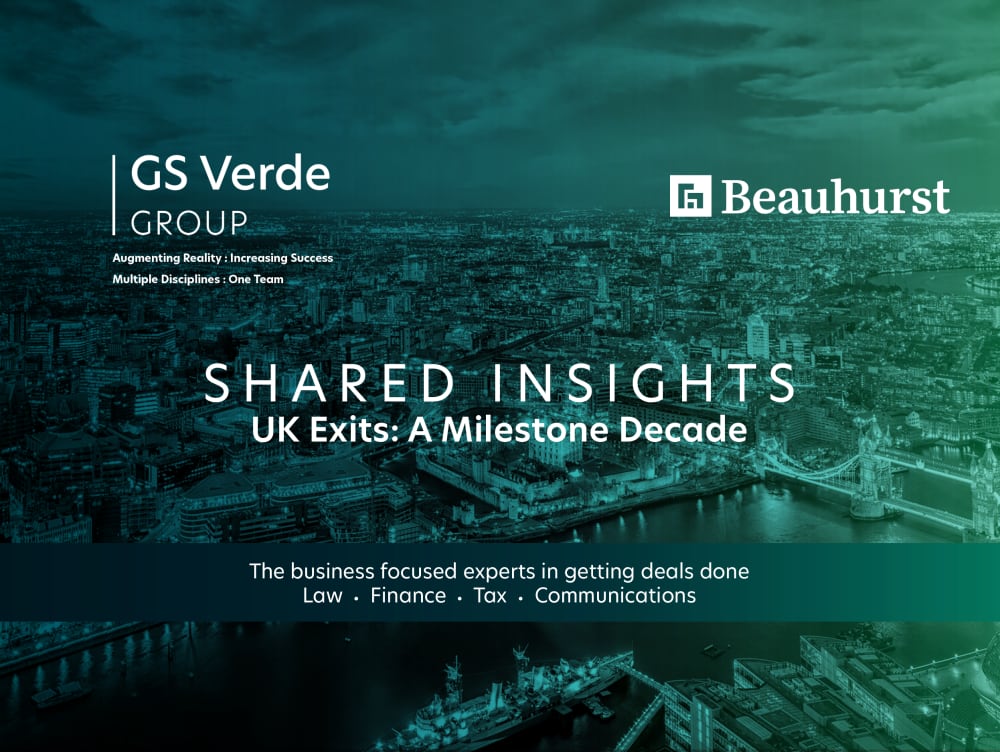 posted
26th
April
2022
Posted

1 year ago
By

GS Verde Group
A report produced by data platform Beauhurst and VC Triple Point reflects on the last decade of exits achieved by high growth UK businesses. In this article, multidiscipline M&A advisors, the GS Verde Group, explore acquisition trends and the growing appetite for IPOs.

Exits play an important role in the UK's high growth economy: providing early investors the liquidity to reinvest in the next round of startups, releasing founders to embark on or invest in new ventures and catalysing further expansion for businesses under new helm.

The past 10 years mark a milestone decade for high growth exits in the UK. New and established venture capital investors have been drawn to the maturing UK and European start-up scene, seeking to support the ecosystem with such intensity that investors are funding businesses today at a rate incomparable to 10 years ago.

With this heightened funding, more companies have transformed into attractive IPO candidates or acquisition targets. There has been a significant increase in the number of successful exits, as UK companies reach prime sale value or IPO opportunities crystalise.

2021: A year like no other

If the past 10 years represented a landmark decade, 2021 was the standout year. Rebounding from a difficult prior period, the total value of high-growth company exits last year increased to £26.7b, up five times on 2020 and a 2.4 x increase on the 10-year average.

Between 2011 and 2021 there was a significant increase in both the number and value of exits completed by UK high-growth companies. Unsurprisingly, exit figures experienced some turbulence during 2019 and 2020—caused by the COVID-19 pandemic and ongoing economic uncertainties due to the UK's departure from the European Union. Despite the total value of exits plummeting by 70% to £5.1b in 2019, marking a five-year low, the total value rebounded by the end of 2021—increasing by 423% to £26.7b.

Acquisitions versus IPOs

A total of 3,725 high-growth businesses exited via acquisition between 2011 and 2021, making it the favoured exit strategy among UK companies. Of this total, 48.5% secured equity investment prior to exit. The GS Verde Group has advised several businesses on such transactions, including a cross-border acquisition in the food production sector.

There has been a clear positive trend in the number of companies acquired, excluding 2020, —rising from 23 in 2011 to 732 in 2021. This trend is less notable when observing the value of acquisitions from year to year, which has varied considerably, while acquisitions of high growth companies in the last decade reached a total value of £55.3b. The total quantity of deals increased by 66.4% from 2020 to 2021 as the UK economy began to open up. This renewed appetite for transactions was felt across GS Verde, working to help companies meet their plans for growth.


It is worth considering the paucity of private acquisition data. While IPO data is plentiful, many acquisitions are more secretive— particularly when the sale value is below £20m. Since 2011, 82% of acquisitions did not share deal data in the public domain. Beauhurst's data collection and analysis adjusts for this, but it is still notable that so many exits have no data.

Listing is typically a less common route for exits completed by UK high growth companies than undergoing an acquisition —only 10.1% of exits in 2021 were IPOs. However, this method is rising in popularity. In 2021 IPO volume was up three times on the 10-year average, with prime examples such as Deliveroo, Wise, and Darktrace.

With the broader economic instability of 2019 and 2020, both the number and value of IPOs decreased significantly, but both figures rebounded and then grew in 2021 when a record number of high growth companies floated, securing a combined market capitalisation of £20.6b, reflecting not just recovery in financial markets but also increased appetites for listing.

The number of businesses listing has increased by a compound annual growth rate of 25% between 2012 and 2021. Similar to acquisitions, the total value of companies undertaking an IPO fluctuates when those companies that list in a given year secure very large market capitalisations.


As 2022 progresses, the UK start up ecosystem has much to be optimistic about, early-stage startup funding continues apace, and the number of mature, highly valued, later stage companies continues to grow.

There are clouds on the horizon - stock market turmoil and macroeconomic challenges, such as inflation, represent obstacles that founders and their investors have to work hard to avoid. However, the ecosystem has proved resilient so far during a period that tested businesses like never before.

With thanks to Beauhurst for providing data and analysis.

Whether you are buying a business, selling a business, or raising funding, the need for expert advice is essential. Contact the GS Verde Group for more information.