Acquisition by healthcare manufacturer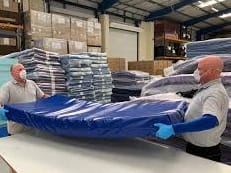 posted
22nd
March
2021
Posted

3 years ago
By

Trudy Wheeler
Greenaway Scott (part of the GS Verde Group), has acted for Herida Healthcare who have acquired Select Medical Ltd and Select Medical Holdings Ltd.

Leeds-based healthcare manufacturer, Herida, is a manufacturer of mattresses, cushions and accessories to help treat and prevent pressure injuries.

The deal is expected to be the first in a series of expected acquisitions over the next five years.

Sean Spencer, Managing Director at Herida Healthcare said, "One of the key factors, in appointing Greenaway Scott as our legal advisers, has been based on its corporate team's excellent knowledge and understanding of our industry sector. The advice and support we have received from Matt and the team at Greenaway Scott has been exemplary and a great fit for both myself and our business."

Greenaway Scott and the GS Verde Group have a track record of advising on successful transactions in the medical and life sciences industries.

On completion of the deal Corporate Director, Matthew Sutton, at Greenaway Scott who provided legal advice on the acquisition said: "We have built an excellent relationship with Herida and delighted to have advised on this deal. We wish them every success with expanding their portfolio of companies over the next few years."

More information can be found here: https://www.insidermedia.com/news/yorkshire/healthcare-manufacturer-makes-first-acquisition

Greenaway Scott is part of the corporate finance led deal-making GS Verde Group. The Group also consists of M&A specialists Verde Corporate Finance, PR & communications agency Dragonfly Marketing, the digitised investment platform Elevate investment network, and business financial management specialists Astrum Accountants.