Celebrating Employee Ownership Day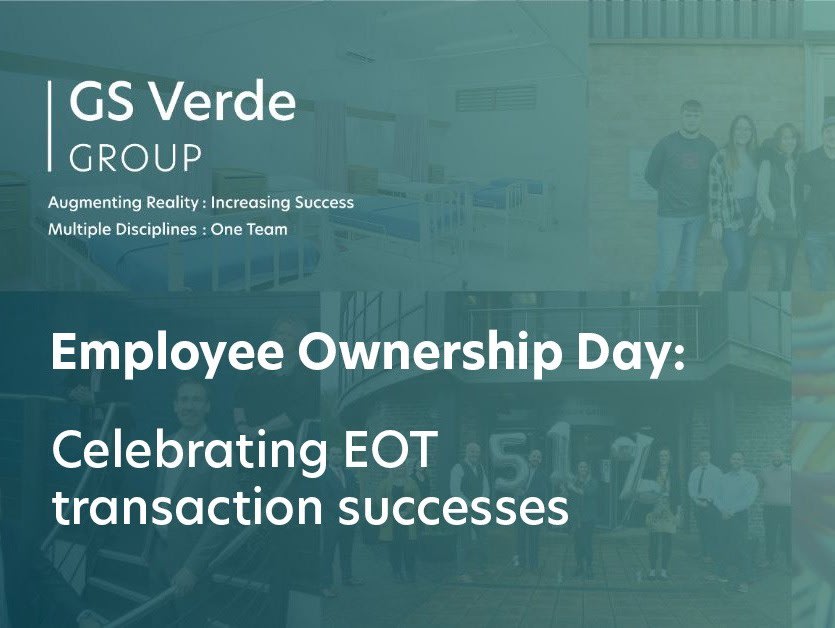 posted
23rd
June
2023
Posted

3 months ago
By

GS Verde Group
For Employee Ownership Day, GS Verde Group is celebrating with our employee-owned clients.

Run by the Employee Ownership Association (EOA), each EO Day, thousands of employee owners, EO businesses and supporters of employee ownership from across the UK come together to raise awareness of the benefits and impact of employee ownership.

In recent years, GS Verde Group has seen an increased interest in EOT as a succession route.

Notable deals GS Verde Group had advised on include:

Paramount: Paramount completed the Employee Ownership transaction in June 2021. The company has since enjoyed exponential growth winning prestigious projects such Gareth Bale's Par59 Bar in Cardiff and the 3 Rivergate building in Bristol.

Educ8 Training: The staff of Caerphilly-based company Educ8 Training Group became majority shareholders of the business, in April 2022. Since becoming employee-owned, Educ8 Training Group has completed two further acquisitions and the business has continued to grow significantly.

Kenton Group: The Employee Buy-Out was completed at international telecommunications firm The Kenton Group via an Employee Ownership Trust in November 2022. The new employee-focused structure benefits the team and The Kenton Group as a whole, as it embarks on its next phase of growth.

Handybrand: Employees at printing and labelling business, Handy Brand, a majority stake in the company in 2022, with guidance and advice from GS Verde Group. The move has allowed the business to centre its staff and helps empower their future development towards shared success.

Other more recent Employee Ownership transactions GS Verde has been working on include business in the transport, automotive, recruitment, healthcare and food & drink sectors.

"Employee Ownership Day is a time to celebrate the tremendous impact that employee-owned companies have on our economy," said David Dulieu, CCO at GS Verde Group.

"The GS Verde Group aims to empower businesses to embrace employee ownership as a driver of innovation, productivity, and long-term sustainability. We want to help foster a culture of shared ownership and help make businesses more aware of the benefits of this type of transaction."

GS Verde Group has a proven track record with EOT transactions and has had the privilege to support so many businesses on their successful path to employee ownership. We look forward to helping many more businesses through this significant period of growth and succession.