Artificial intelligence one of the UK's most active start-up sectors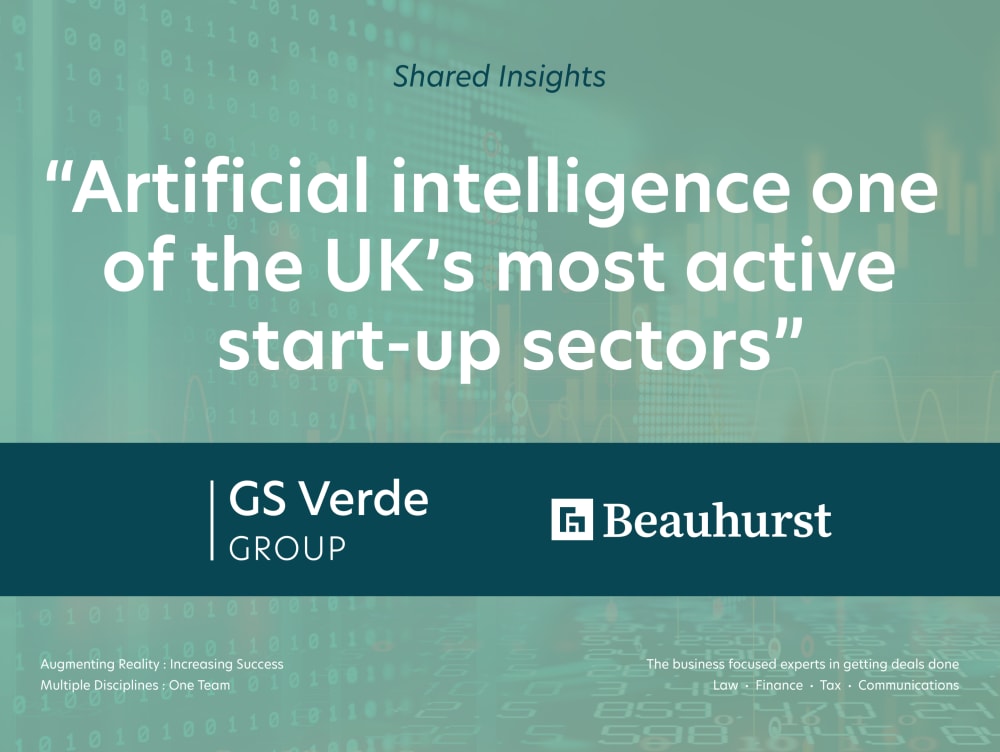 posted
3rd
March
2022
Posted

2 years ago
By

GS Verde Group
Artificial Intelligence is fast-becoming one of the UK's most active start-up sectors, data from Beauhurst indicates. Deal activity in this sector is on the rise - in this article GS Verde examine the latest investment trends as the applications of AI diversify.

'The artificial intelligence problem is taken to be that of making a machine behave in ways that would be called intelligent if a human were so behaving.'

It was computer scientist John McCarthy who coined the term 'artificial intelligence' in his seminal 1956 paper, defining it as the above. Over the past 70 years artificial intelligence (AI) has gone from being the muse of science fiction to a must-have for any ambitious business.

Interest in AI continues to grow, with numerous applications in a post-pandemic world, ranging from solutions to remote working, to Health and cybersecurity. As the GS Verde Group continues to advise a wide range of business in these sectors on deals and raising investment, it looks increasingly likely that AI will be a topic of discussion and even a key aspect of businesses.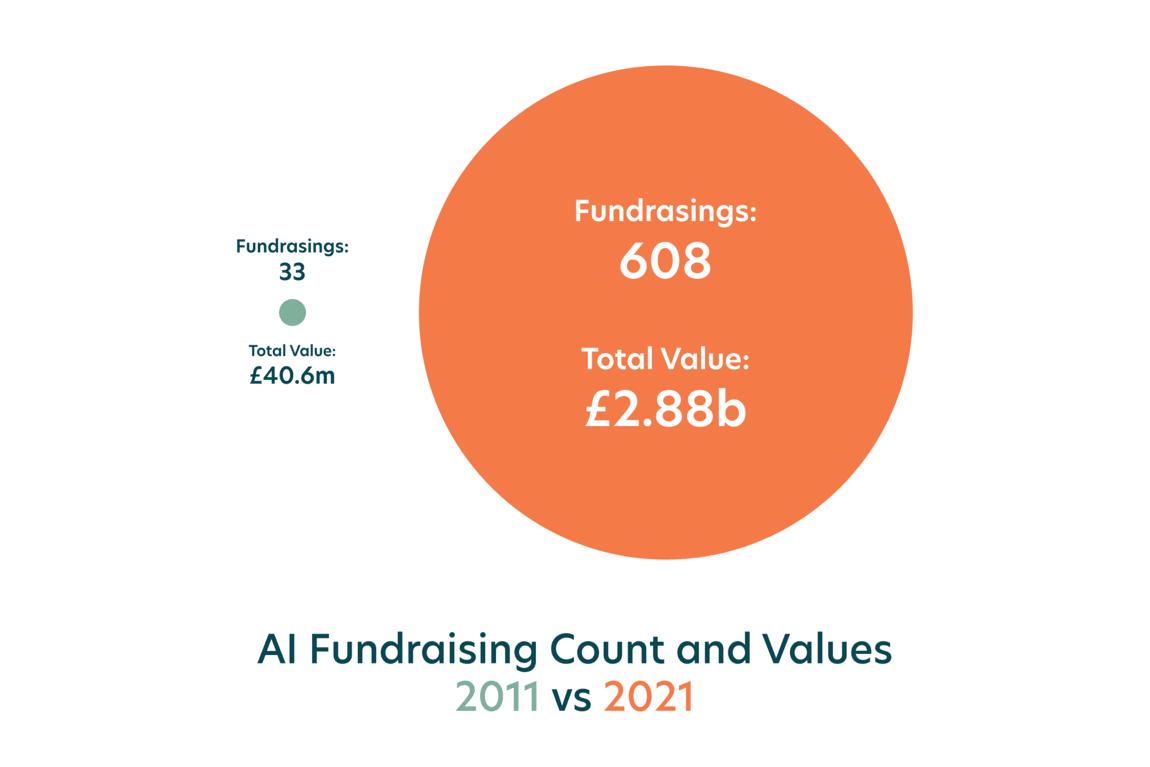 The pandemic unsurprisingly accelerated the role of technology in our everyday lives. Data platform Beauhurst tracked over 600 investments in the AI sector in 2021, more than ever before, worth almost £2.88b. In the last decade, AI companies have secured £9.88b of equity investment across 3.6k funding rounds, making it the second best-funded sector in the country, behind FinTech.

Funding into the AI space increased by over 60% between 2020 and 2021 and in a list of emerging sectors indicating the future of living, AI ranked fourth with 175 active high growth companies in the UK shaping education, health, retail and media consumption.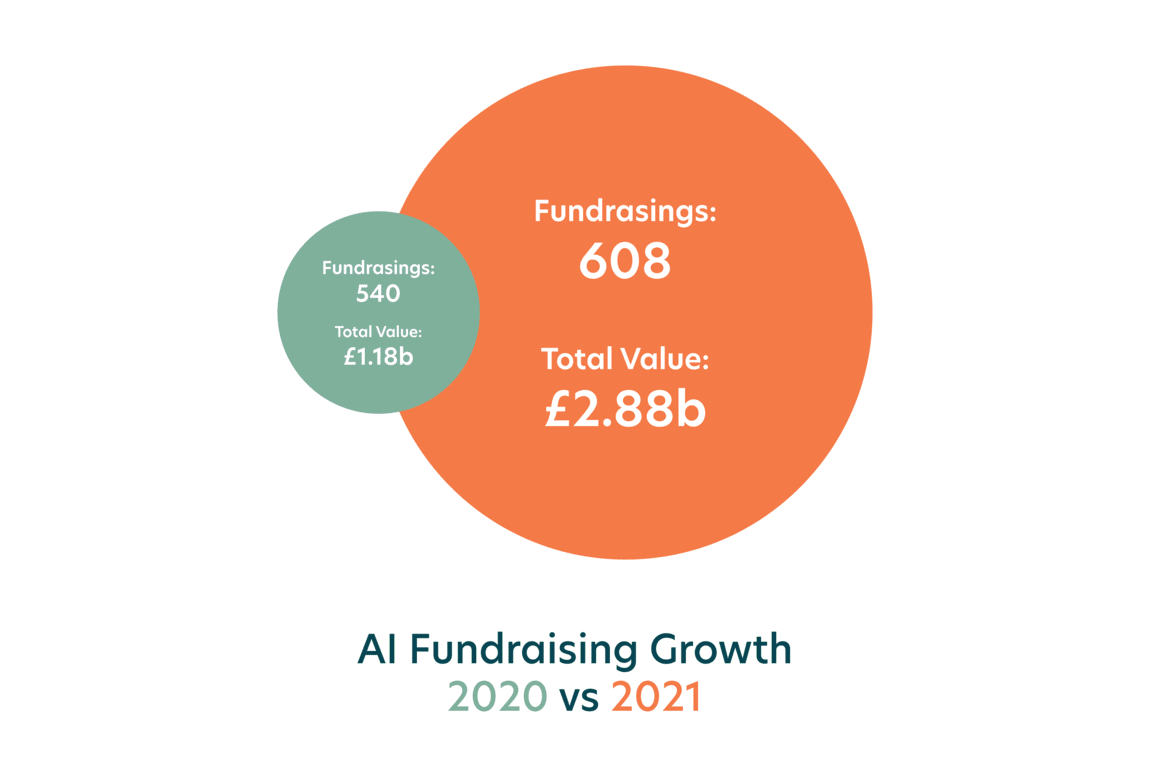 The number of active AI companies has increased quarter upon quarter, only decreasing minimally at the close of 2021. The majority of these companies are currently in their seed stage (43%), followed by 24.5% in the venture stage of growth. Plenty of artificial intelligence companies have chosen the UK as their home and over 1,700 hit one or more of Beauhurst's eight high-growth tracking triggers since 2011.
As AI has become more and more essential to any ambitious modern-day business, its uses have adapted to a very wide range of industries and needs. AI's superior pattern-spotting and processing ability lends itself to Big Data and digital security. Fintech and customer service sectors have also utilised AI to detect fraud or determine creditworthiness, power chat bots and learn consumer behaviour.

Perhaps surprisingly, artificial intelligence has also started to make waves in Health and MedTech, diagnosing diseases and other problems undetectable by the human eye. Beauhurst's data supports this, as the value of fundraisings hosted by companies working in the life sciences and artificial intelligence crossover increasing by 310% between 2020 and 2021.

With AI already seamlessly integrated into so many sectors, the future holds not only endless possibilities but lucrative opportunities for entrepreneurs and investors.

With thanks to Beauhurst for providing data and analysis.

Whether you are buying a business, selling a business, or raising funding, the need for expert advice is essential. The GS Verde Group are business focused experts in getting deals done, combining multiple disciplines including law, tax, finance and communications, to provide end-to-end support as a complete advisory team.